Dear Dad.
Whether he's Dad to 2 toddlers, an errant teenager or retired and embarking on a new adventure himself, Father's Day is an opportunity to say thanks for the guiding arm, the strong shoulders of support and the unconditional love.
Like many of the UK's celebrations, Father's Day originated in the United States when a woman called Sonora Smart Dodd was inspired by the American Mother's Day celebrations to plan a day to honour fathers. In 1910, it was ridiculed and seen as solely for commercial gain but it was slowly recognised and is now a firmly established part of the family calendar.
In recognition of its American origins, we were inspired to look back at our brownie recipes, another American import which was probably more readily adopted than Father's Day was at first!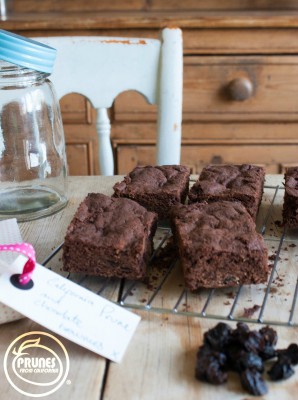 California Prune and Chocolate Brownies
Ingredients:
30g California Prune Puree*
65g butter
160g caster sugar
1 egg, beaten
150g melted dark chocolate
40g cocoa powder
175g plain flour
2g baking powder
50ml water
Method:
Grease and line an 18cm (7″) square cake tin.
Melt the chocolate. Once it is fully melted add the butter.
Sieve the flour, sugar, cocoa and baking powder into a bowl and mix together.
Into the same bowl, add the beaten egg, water, California prune puree and mix the dry and wet ingredients together until smooth and well combined.
Add the melted chocolate and butter mixture.
Beat together until all the ingredients are well mixed and transfer the mixture into the greased and lined tin.
Bake for 45 minutes at 150°C
This recipe is a delicious brownie in its own right but as a special touch for Father's Day you could add his favourite chocolate treat on top. Just lay them on top of the mix before you bake. They might melt, they will sink, but they will be delicious!
Not a chocolate lover? More of a tradition pud man? Then we have something for your Dad too. What could be more quintessentially British than a custard tart?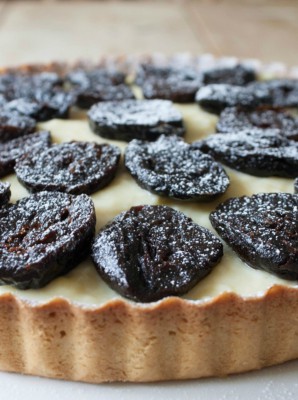 California Prune and Custard Tart
Ingredients:
14 California Prunes
Ready-made sweet short crust pastry tart case
2 large egg yolks
65g caster sugar
25g plain flour
Couple of drops of vanilla extract
300ml full fat milk
Icing sugar to dust
Method:
Make the custard by mixing the egg yolks and sugar in a large bowl until smooth. Sift in the flour and mix until lump free.
In a large saucepan, heat the milk until just warm (do not let it boil). Remove from the heat and pour about 1/3 into the bowl with the egg mixture and whisk until combined.
Pour this back into the saucepan containing the remaining milk and whisk continuously for 4-5 minutes until it is thickened up and smooth in consistency.
Remove the mixture from the heat and stir through the vanilla extract, place in a bowl and cover with cling film. Allow to cool.
Once the custard has cooled completely, spoon it into the tart case evenly.
Cut the prunes in half lengthways and place all round the filled tart – eventually meeting in the middle.
Dust with icing sugar and serve.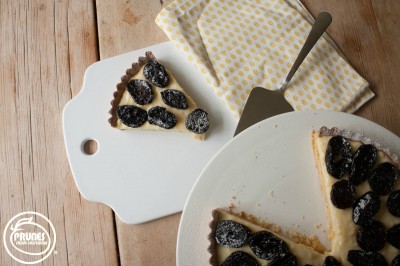 Now if that doesn't put a smile on his face, we don't know what will.
*How to make the California Prune Puree
It could not be easier; to make 275g of California Prune Puree, simply blend 225g of California Prunes and 90ml water in a liquidiser until pureed