California Prune
Competition Winner Spends the Day Baking with Rosemary Shrager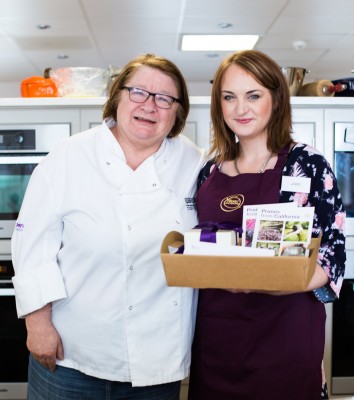 The winner of our recent recipe competition, where entrants were invited to
create their own California prune recipe, has spent the day cooking alongside
celebrity chef Rosemary Shrager following her outstanding entry.
Amy, 33, entered her Prune Beef Wellington after testing it
out on her sister, "I replaced some of the chopped mushrooms in the duxelle
around the beef with California prunes. It worked! It was incredibly tasty."
The use of California prunes is great news for home cooks who
have a keen eye on calorie count and the refined sugar content of baked goods.
California prunes can be used as a prune puree for a naturally sweet substitute
in cakes, biscuits and pastries. Prune puree can replace up to 30% of the
refined sugar in sweet recipes.
"I think the sweetness of the California prunes is a lovely
contrast with the rich beef meat, and the salty pastry," says Amy. "I was
pleasantly surprised with how well they worked together."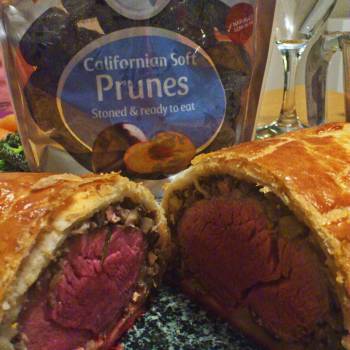 The competition was launched by
Rosemary herself at her eponymous Cookery School in Royal Tunbridge Wells, in
order to encourage people to cook healthy and
indulgent dishes using this versatile and incredibly delicious super fruit.
"I was really excited about a
competition that called for creativity and originality", says Amy. "Of course,
the thought of winning a cookery course with Rosemary Shrager was also
enticing!"
Rosemary kicked off the day by
welcoming the guests to her bread making masterclass and giving them a short
introduction to the history of bread. She then spent the day with her students,
teaching them the intricacies of bread baking.
"The day was a great
experience – we had such a wonderful weekend and a fantastic day!" says Amy. "Rosemary
was really lovely and exactly how you see her on TV, really down to earth but
utterly bonkers in a wonderful way. I learnt a lot."
"I have so much bread in my
kitchen right now, I will be eating it all week – and I still want to make
more!"