Once upon a time being adventurous with vegetarian food meant adding a sprig of lemon thyme to a bland rice-stuffed mushroom. Fortunately endless vegetarian recipes and inspiration are now no further away than a click of the search bar.
The evolution of #meatlessmonday (google it), the inclusion of vegetarian recipes in mainstream cookbooks and the growth of healthy-eating from entertaining food bloggers have all contributed to the wealth of ideas available for anyone to try at home, whether they are vegetarians or just like to take a night off from meat occasionally. The level of understanding about nutrition has also grown exponentially meaning these meals are not only satisfying, they also ensure you maintain a balanced diet.
California Prunes can bring a lot to the vegetarian party of course. The sweet subtle flavour can balance with sharp or spicy notes in a dish. They are also pack a nutritional punch adding fibre, vitamins and nutrients that can help with digestive health and bone strength for the whole family.
National Vegetarian Week runs from the 16th May to the 22nd May and is a celebration of all the amazing meat-free dishes you can create. To contribute to this initiative to drive awareness we have a couple of quite different dishes for you to try.
The first is our Pearl Barley Salad with California Prunes and Roasted Radicchio. The prunes in this dish compensate perfectly for the radicchio which can be a little bitter on their own and add an interesting level of flavour to the pearl barley base.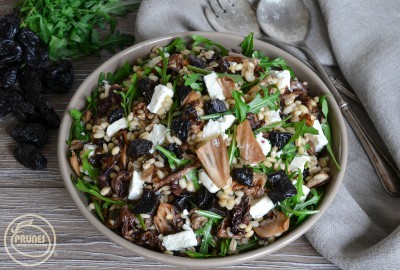 Ingredients:
1 head of radicchio
170 g pearl barley or barley
12 California prunes
2 tbsp olive oil
1 tbsp honey
150 g feta cheese
handful of rocket salad
pinch of salt
Instructions:
Cook the pearl barley with an equal volume of water. Add 2 California prunes into the boiling pearl barley which will add colour and flavour. Cook this on low heat until the barley has absorbed all the water. Leave covered pot to cool.
Preheat oven to 170°C. Cut the washed and dried radicchio into bite-size pieces. In a dish toss together with the olive oil and honey, mixing thoroughly. Lay the radicchio on a lined baking sheet and place in the oven for about 10-12 minutes until it is lightly roasted.
Cut the remaining California prunes into strips or quarters and the feta cheese into small pieces.
Add the roasted radicchio, California prunes, rocket and diced feta cheese to the cooled pearl barley, mixing together and add a little olive oil, honey or a pinch of salt to taste.
For a spicier take on vegetarian week we have this delicious California Prune, Cauliflower and Cashew Thai Green Curry for you. Thai green curries are more about the subtle blend of flavours than about heat and this is no exception. Bringing California Prunes into the mix adds another flavour note but also just few added healthy benefits. If you aren't aware of all the nutritional benefits that California Prunes have, just have a read of this.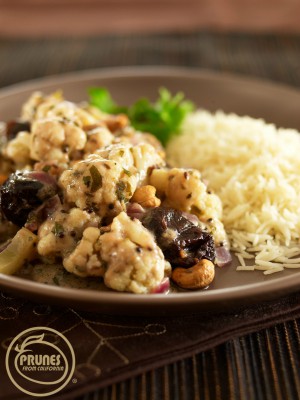 Ingredients:
1 tbsp olive oil
¼ tsp mustard seeds
¼ tsp cumin seeds
2 ½ tsp thai green curry paste
1 red onion peeled and diced
2 sticks celery sliced
525g cauliflower florets
400ml coconut milk
75g California prunes
100g cashew nuts
Juice ½ lime
2 tbsp freshly chopped coriander
Instructions:
Heat the oil in a wok or large frying pan, add mustard seeds and cumin seeds and fry until they start popping. Toss regularly so they do not burn. Add onion and celery and sauté for 2 minutes before stirring in the curry paste. Add cauliflower florets and prunes and stir-fry for 2-3 minutes before pouring in the coconut milk.
Bring the milk up to a simmer, cover and cook for 15 minutes or until the cauliflower is nearly tender. Add cashew nuts, lime juice and chopped coriander.
Serve with basmati rice.
We would love to see you own vegetarian recipe ideas incorporating California Prunes so please to let us know what dishes you have created. Tweet us, post on our Facebook page, tag us on Instagram or Pinterest.