Lack of sleep, little time or energy to prepare healthy meals for yourself, run ragged looking after the rest of the family? Does this sound familiar?
Give yourself a break and blitz up a re-fuelling smoothie, or a convenient breakfast that isn't a toddler's left over toast crusts. These smoothie ideas will provide you with the calories and nutrients you need to get you through to lunchtime.
Of course they contain California Prunes, which just in case you didn't already know, contains fibre for smoother digestive health, vitamin B6 which can relieve exhaustion and normalise hormone levels and vitamin k which helps normalise blood clotting particularly helpful in the first few weeks after delivery.
We do realise that California Prunes, while little wrinkly wonders in the nutrition stakes, do not solve all ills, so these recipes also contain added ingredients to give you some of those energy giving good fats, potassium for breaking down carbohydrates and for cell renewal and vitamin E which promotes healing and boosts the immune system.
The first recipe we'd love you to try is Jennifer Irvine's California Prune Refueller Smoothie. Boosted by avocado, peanut butter and flaxseeds the sweetness from California Prunes (no added sugar here!) makes this a super flavoursome way to start your day, even if it was at 5.00 am. The added bonus is that it is as easy as switching on the blender.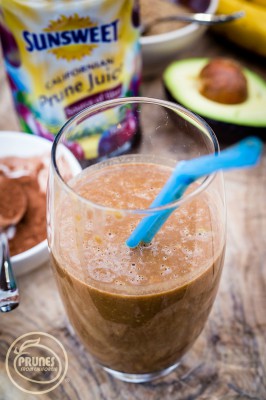 Ingredients:
1 banana
Half an avocado
A small handful of California Prunes (about 4)
300 ml California Prune Juice
A tablespoon of peanut butter (any type, although go for the ones with the least listed ingredients that you can find)
A teaspoon of pure cocoa powder
A teaspoon of flaxseeds, if you have them
Instructions:
Just add all the ingredients into the blender and blitz until smooth. Done!
The next recipe we have takes just a tiny bit of planning, but no more than remembering to pack nappies in the day bag so we are confident that sleep deprivation shouldn't be an obstacle to enjoying Jennifer Irvine's Apple and California Prune Bircher Smoothie.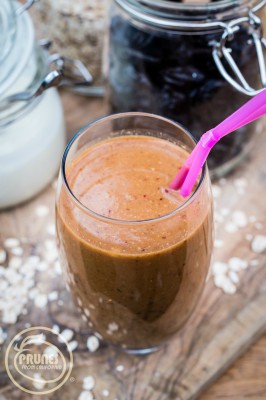 This recipe has oats as well as prune juice which are known for releasing their energy slowly, ideal to see you through the morning and everything a new baby can throw at it.
Ingredients:
A handful of rolled oats
A small eating apple (such as Cox), peeled
100ml apple juice
A small handful of ready-to-eat California Prunes (about 4)
200ml California Prune juice
30g natural yoghurt (go for one high in pro-biotics)
Instructions:
Before bed, at whatever hour that now is, put a handful of oats in a bowl. Grate the apple and add to the oats with enough apple juice to cover the ingredients by about 1cm. Leave this in the fridge overnight.
The next morning spoon the oat mixture into your blender. Add the California Prunes, enough California Prune juice to cover the ingredients, and a large dollop of yoghurt. Blend on high until smooth.
Enjoy!
These and more recipes are available on our Recipe page and we also have a YouTube channel where you can also find recipes for these smoothies as well as many more tempting dishes.